Note: We'll continue to update this paddle board Black Friday deals and Cyber Monday deals page, so be sure to bookmark it and refer back to it while you're shopping. Also, be sure to check out our in-depth paddle board reviews and our best recommendations for cheap paddle boards that are perfect for getting started.
Find the Paddle Board Deal by Brand
Whether if you are looking to upgrade your current paddle board or just want to get into the sport for the first time, you'll want to find the best Black Friday and Cyber Monday deals (and the best quality) on Rocker, BlueFin, Thurso, Funwater SUPs and more for sale.
Don't worry, we've got your covered. From Amazon deals to the manufacturers, we've found the best deals on paddle boards so you don't have to. To make it easier, we've broken the deals down by SUP brands.

ROC Paddle Board Friday & Cyber Monday Deals
Roc paddle boards are one of the top-rated and best-selling boards on the market right now. ROC SUPS are made with high-quality military-grade material, using the same materials as boards costing twice as much. With lots of color options to suit your preference, you'll want to check these boards out. 
PEAK Paddle Board Friday & Cyber Monday Deals
Peak has several great paddle boards on sale right now (if you use the Amazon coupon). The Peak Expedition SUP is a great all-around touring board that weighs in at just 19.5 lbs. This 11′ board features a hybrid nose for fishing, touring, snorkeling, spearfishing, or recreational paddling in all weather conditions. 
If you're looking for a great multi-person paddle board, then the Peak Titan might be perfect for you. With it's 500lb capacity and 45″ width, it is a great family board for hitting the lake or saltwater. Right now, there's a great discount going on for this board.
iRocker Paddle Board Friday & Cyber Monday Deals
iRocker boards are some of our favorite boards. Right now they are offering $75 off any paddle board, plus free gear (such as an electric pump and kayak kit – valued at $228). You'll want to grab these savings before they are gone.
These deals are only good on the iRocker website.
Not sure which iRocker paddle board is right for you? Check out our reviews:
Bluefin Paddle Board Friday & Cyber Monday Deals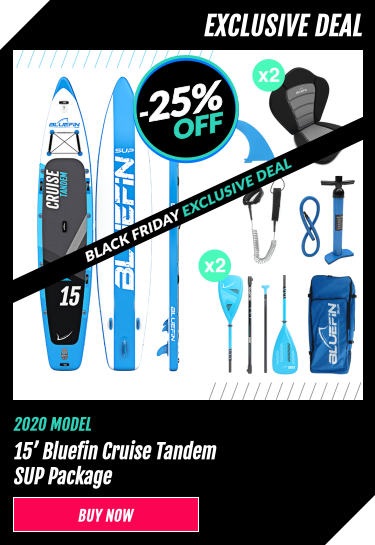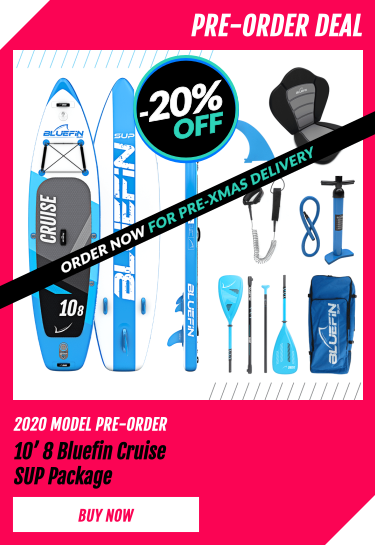 Bluefin Paddle Boards – Has a rolling weekly Black Friday offer. This week, they are offering the Bluefin 15′ SUP Cruiser Tandem package at 15% off, making it just $679. A great deal on this board.
FunWater Paddle Board Friday & Cyber Monday Deals
Funwater is running a 25% off Black Friday promo on all Funwater paddle boards (going on now). These prices seem to match the ones you'll find on Amazon (such as the Funwater Cruiser 11′, which is $299 on Amazon and Funwater's website). However, you can use the codes below to stack the savings.
Funwater Paddle Board & SUP SAVE $40 with code fwshare40 or get 10% OFF THE LIMITED-TIME OFFER with code funwater10.
Right now, these codes seem to be stackable on the Black Friday deals.
Check out our reviews of the Funwater Tiki Cruiser 10'6″ and the Funwater All-Around board.
Thurso Paddle Boards Friday & Cyber Monday Deals
THURSO is offering $100 off the Waterwalker (note the Waterwalker 126 and Waterwalker 132 are in stock, the Waterwalker 120 is available on backorder) and $150 off the Expedition SUP. Additionally, you get a free kayak kit and paddle blade. Hurry, this deal ends Nov 30.
Looking to purchase more than one SUP? THURSO is offering a combo deal promo: buy any two THURSO inflatable SUPs, and get an additional $50 discount.
Bestway Hydro-Force Paddle Board Deals
One of the best budget-friendly shorter boards out there is the Bestway Hydro-Force Oceana Inflatable Stand Up Paddle Board. At only 9 feet and a weight capacity of 220lbs, this board makes a great kids, adult, or beginner board for a smaller adult. Right now the Bestway Hydro-Force Ocean Paddle Board is at the lowest price this year.
SereneLife Premium Inflatable Paddle Board Deals
Serenelife makes several nice paddle boards that you might want to consider. With Black Friday/Cyber Monday deals putting these boards under $400, this is a perfect time to grab one (or two).
SUP Pumps
The OutdoorMaster 20PSI SUP pump will save time and your arms from pumping all those new paddle boards you'll be getting this week. It's on sale at a great price. Check the reviews and see for yourself.